How To Kill Frozen Apps [Mac]
This guide is aimed for any Mac user that is having trouble getting out of an application.
Navigate to the apple logo(top left) and click it.
Scroll down to "Force Quit" and click it.
Find the application that is frozen and click on it.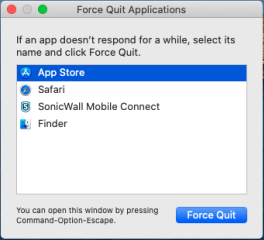 Once you have selected the problematic application, click "Force Quit"
Confirm the Force Quit.
SSKB-0168-133-p_Mac - Escaping Frozen Apps