Removing offline files sync partnership
Summary:
Removing an offline files sync partnership is not as straight forward as it should be. However, there seems to be a way to remove them none the less.
Actions:
Disable offline files in the sync centre.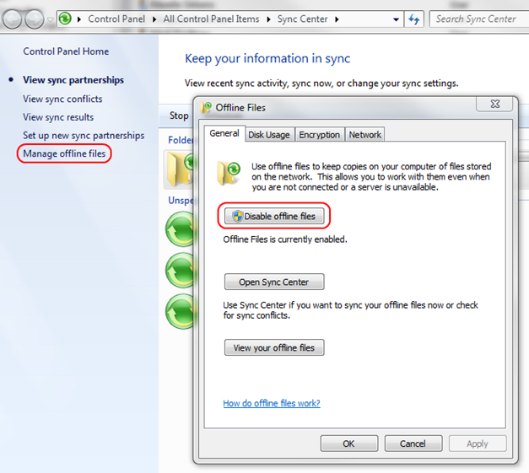 Reboot your machine for the changes to take effect

Go to C:\Windows\CSC\v2.0.6\ and take ownership of the folder
Right-click the CSC folder, click properties.

Click security

Advanced

Owner

Edit

Select or add your username to the list

Put a checkmark in "Replace owner on …"

OK
Delete the server folder that you want to remove from the partnership

Reboot your machine again

Restore permissions on the C:\Windows\CSC\v2.0.6\ folder
Go to the permission tab and make sure the checkbox -include "inheritable permissions from this object's parent"-
is checked. Then reboot and verify the permissions are correct.
Offline files should now work again and the sync partnership should now be removed completely.
SSKB-0125-133-p_Removing offline files sync partnership